Super Global Highschool
About SGH
The Super Global High School program is a 5 year (2014-2018) nationally funded program. After 2018, our school will continue this project with financial support provided by the Ibaraki prefectural government.

The aim of the Super Global High School Program is to foster global leaders who will play an active role in the world. Through collaboration with companies, international organizations and domestic and international universities, students are equipped with a deep knowledge of social issues, communication skills, problem-solving skills and other globally competitive skills.

Super Global High Schools are expected to define their ideal global leader profile considering the regional characteristics and features of the school. This program requires high school students to conduct multidisciplinary, comprehensive and exploratory research on either a social or business related theme. The fieldwork should take place inside and outside the country in order to broaden the student`s perspective.
Framework of research theme
Title
Developing glocal human resources for entrepreneurship with biological resources
1st year
Research on the prospects of glocal human resources
2nd to 4th year
Research on the suitability of the project

Are the biological resources adequate?
Is the proposed business plan effective?
Is the cooperation with venture companies adequate?

5th year
Research on the application of the global leader program
The aims of project development
This project aims at developing an effective curriculum for global leaders in cooperation with universities and companies. In addition to our original idea of global leadership, we consider the following qualifications for global leaders.
The qualification to be a global leader
A person who understands how the world works, identifies important issues, and is able to make decisions to resolve those issues while respecting different ideas and opinions.
Ability to eagerly explore a diverse range of topics
Ability to make a decision using good moral judgment
Ability to express their own thoughts accurately
Ability to maintain interest in and understanding of global issues
Ability to effectively communicate with those who have different values while maintaining Japanese values
"Glocal human resources" means people who are able to convey local values to people in other parts of the world. Being able to not only "think globally, act locally" but also "think locally, act globally" is the goal of the glocal philosophy.

Our mission at Tsuchiura Ichiko is to communicate the local values of Ibaraki prefecture which are rich in biological resources. Our high school with its 100-year history and being located in the international research city of Tsukuba is the ideal location for this program.
Domestic cooperation
University of Tsukuba
Cooperation with the University of Tsukuba will be held according to the following two sectors. For the life and environmental science aspects, we will cooperate with Prof. Makoto Watanabe. His laboratory conducts research on biomass energy from algae including commercial viability aspects. Algae biomass does not compete with food and has a high energy-yielding capacity as a bio-fuel. Algae growth experiment in the field started with the support of Tsukuba city. This technology has a high potential and our students show a strong interest. For example, algae blooming in Lake Kasumigaura caused by lake eutrophication may be collected as a source of bio-fuel.

For the social policy and planning science aspect, Associate Professor Yukihiko Okada will serve as the chief collaborator. His research focuses on corporate governance by two approaches; a scientific approach (based on field work and data analysis) and an engineering approach (based on modeling and experimentation). His research group provides a revolutionary education in "service engineering" by working with private companies and the local government. This methodology is crucial for corporate governance, especially when students develop their business plan. For the Super Global High school project, the "service engineering" methodology will be used to evaluate teaching effectiveness.
Tsukuba Bank
There will be a seminar series for entrepreneurship. Tsukuba bank will provide experienced personnel who have been involved in various aspects of start-up businesses. The personnel will include bankers, think-tank researchers, and private company employees as guest lecturers. During the course of the lecture series, students will learn the structure of a company, networking skills, and the basics of management; rather than focusing on starting up a company. Students will give a final presentation at the main hall of Tsukuba Bank. Their presentations should include seeds for an actual business plan.
Overseas partnership
Malaysia-Japan International Institute of Technology (UNIVERSITI TEKNOLOGI MALASIA)
 Malaysia-Japan International Institute of Technology (MJIIT) is our international counterpart university. MJIIT is part of Universiti Teknologi Malaysia which is a major engineering university with campuses located in Kuala Lumpur and Johor Bahru. The University of Tsukuba opened its local office in the MJIIT Kuala Lumpur campus in December 2013. In collaboration with Malaysian universities and institutes, the office promotes education and research with a primary focus on environmental science and engineering as well as social engineering including water management and algae-based bioenergy. In September 2011, MJIIT in Kuala Lumpur was co-founded by the government of Japan and Malaysia. It was designed to act as a center to promote Japanese style engineering education in ASEAN countries. MJIIT is managed through the cooperation of over 20 Japanese universities including the University of Tsukuba. Japanese teachers and local undergraduate and graduate students at MJIIT will plan for lectures and provide guidance for the students' field work.

Berjaya Sompo Insurance Berhad, Kuala Lumpur, Malaysia
Founded in 1984, Berjaya group is a conglomerate of real estate investment and development, finance, food services, travel industry, hotel and resort development. Berjaya Sompo Insurance Berhad is one of the companies in the conglomerate. It handles automobile insurance and contributes to the local community by providing localized insurance plans, body shop licensing and service know-how. Berjana kindly gives support for the SGH project partly because Sompo Japan Nipponkoa which cooperates with Tsukuba Bank is an investor of Berjana Sompo Insurance. Lectures on the role of conglomerates in the local community and how they view global human resources are planned. There will also be advice and feedback sessions on students' projects as well as office tours.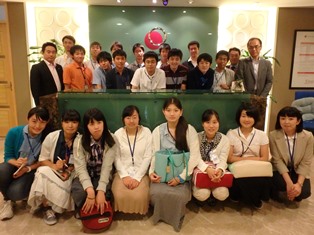 Tenet Sompo Isurance Pte. Ltd., Singapore
Tenet Sompo Insurance Pte. Ltd. is a nonlife insurance company in Singapore invested by Sompo Japan Nipponkoa. The company has been growing rapidly by introducing high-quality services from Japan and also other services based on local needs such as "Maid insurance." Such rapid growth is rather rare in the matured market of Singapore. We contacted them for the support of our SGH project because we thought it would be highly beneficial for SGH students to see how Japanese and local staff work together. During field work, Japanese employees in Tenet will be asked to give lectures about global business management, discussion with local employees, as well as advice for the project and office tours.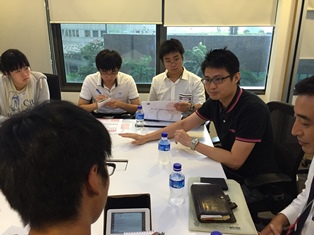 JTB Singapore
JTB Asia Pacific has 27 offices in 10 Asia Oceania countries and deals in the travel business, commercial affairs and transportation. In addition to travel products and services, JTB Singapore inbound and outbound sectors have been arranging extra various events such as school trips, business meetings, and model United Nations convention. It is a great advantage for our project to have the support from JTB Singapore to ensure the safety and overall success of our students' field work in Malaysia. We are currently arranging for specific support including tours of local companies and factories, collaborative activities with a local high school, and students' participation in business meetings, model UN convention, and exhibitions.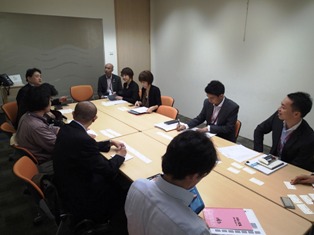 Buzz Element, Kuala Lumpur, Malaysia
Tasmania University, Australia
Projects
Global career design class (requirement for all first grade students)
Objectives
To learn broad knowledge and the ability to solve problems by oneself
To gain communication skill and the competence for decision making
Contents
Conducting field work as a group project
Preparing a report and oral presentation
Project theme "Discovering and Promoting the value of local resources and property
April to July

Classes for the basics on how to conduct research
Classes for ICT media and presentation
Classes for communication
Lectures by teachers from the University of Tsukuba
SGH introduction seminar

Summer break
Conducting field work and preparing group reports
September
Classroom presentation, Entrepreneurship seminar (1)
October
Developing business ideas and writing a report in English
November
Preparing presentation, Career seminar (1)
December
Entrepreneurship seminar (2)
January
Presentation focusing on business ideas in the classroom
February
Best presentation contest and poster session
March
Career seminar (2)
Communication classes by a native speaker (Approximately every month)
Career seminar by specialists including students' parents and local residents
<Global career design 2015-1st grade>


Selection of project topics


Interview for others in English



<Global career design 2016-1st grade>


Discussion


Discussion


Presentation

Global career advance class for the second grade (40 expectants)
Objectives
To learn the ability to make the decisions necessary to become a global leader
To learn the ability to respect others and understand different cultures
Contents
Each group must select a project theme, choose advisors, develop the project, prepare and review for the field work abroad
Plan, do, and present business plans
Enter their new business idea in an entrepreneurship contest
April to July

Selection of project topics and advisors, research and data analysis, and preparation and review for field work
Booth workshop with exchange students from foreign countries, inviting students at the US base, planning a cultural exchange program
Presentations at an open school day, the culture festival, the class reunion, and Urawa High school in Saitama prefecture

Summer break

Field work abroad
Global leader training camp
Leader workshop

September to March

Taking action based on the business plans
Apply and participate in new business contest and model UN
Briefing report at the University of Tsukuba, Tsukuba bank and school website
<Global career advance 2015-2nd grade>

Group making


Group discussion


Domestic fieldwork

<Global career advance 2016-2nd grade>









<Global career advance 2016-3rd grade>